In this edition you can read about
At The Quilters' Store
What's Coming
What's New
What are we sewing?
Classes
Social Groups
#All of our Newsletters have a link to each product featured. If you are looking for more information, price etc., just click on the name/heading of the product and it will take you to our website.
AT THE QUILTERS' STORE
Well hasn't the world changed since the last time we chatted. Not sure where to start. I do sincerely hope that each and every one of you is staying safe, looking after yourselves and your loved ones and maybe even getting a bit of time to sew!
Of course as quilters, we are all well and truly prepared for self isolation. 99% of us have more fabric than we can ever use in a lifetime but at the moment I'm sure we are all putting in a good effort to get through it! So many UFO's being finished, old projects being dug out and new ones being started. My sewing room (or studio to be fancy) would rival any archaeological dig you care to name!
We are still here in the shop but in a slightly reduced capacity. For those of you who follow us on Facebook or Instagram, you will have seen our post. I have copied it here below for everyone's information.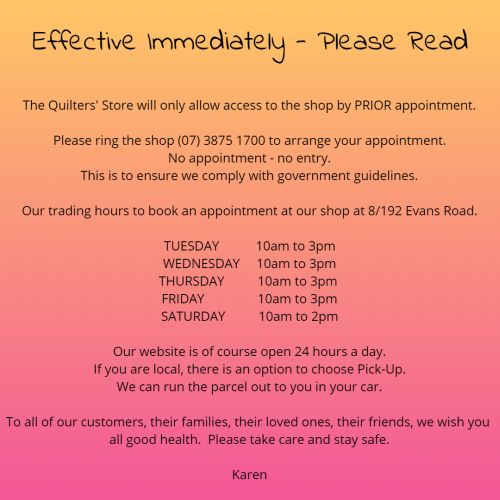 So to summarise, we have shortened our trading hours to 10am to 3pm Tuesday to Friday and 10am to 2pm on Saturday.
We will be closed this Saturday April 25 as it is ANZAC Day.
We are seeing people by prior appointment only.
So if you want to pop into the shop, then give us a call, make a mutually convenient time and we will be able to assist you.
Of course the website is always open and if you live locally, you can arrange to pick-up your order.
WHAT'S COMING
Bee Mindful is a collaboration between Lloyd Curzon Textiles and Michelle Hill.
This is an idea born from the devastating 2019/2020 fires in Australia. Kangaroo Island was particularly hard hit. This island is a wildlife flora and fauna sanctuary. As we all know bees are vital to the food chain. Without bees, plant propagation is dramatically reduced. The Ligurian Bee colony on Kangaroo Island has been there since the 1880's. This is most probably the purest colony of Ligurian Bees outside Italy and it has been devastated.
So Tim and Michelle put their heads together and came up with the Bee Mindful quilt. Lloyd Curzon will be donating a portion of the fabric sales to the Kangaroo Island Bee Keepers Association. Michelle Hill will be donating a portion of the pattern sales to the Wild Life Fund Australia. We also will be donating a portion of our sales to the Kangaroo Island Bee Keepers Association.
This 12 month Block of the Month uses Ayu Batiks in colours and patterns to reflect Australian Flora and Fauna. It is available with a dark background (as shown) or light grey background.
We are taking expressions of interest now for this stunning quilt. It is due to be released in May/June. Anticipated price per month is $25 plus postage. Please call or email us to register your interest. We will contact you when the BOM is ready to start, to confirm your participation.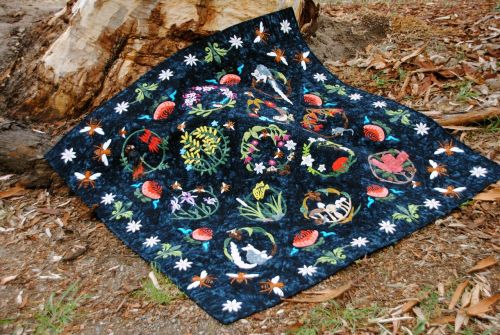 WHAT'S NEW
Don't forget, to keep up to date with our new products, visit the New Arrivals page on our website or like and follow us on Facebook and Instagram. You can access our Facebook page and Instagram account using the icons above.
Maui Batiks by Moda are currently available in Layer Cakes (42 x 10" squares) and Charm Packs (42 x 5" squares).
Milk & Honey by Elea Lutz is one of the prettiest ranges I have seen for a long time. It is inspired by the sweetness of spring. Stroll by the blooming rose garden and discover bunny and friends playing together in the strawberry patch. Beautiful colours of spring mixed with a dash of honey offer a fresh palette for your creativity. This Sunny and sweet collection is full of charm that will have you dreaming of spring all year long. We have fabric by the bolt, fat quarter and fat eighth bundles, 10" stackers (only 2 available) and an adorable panel in 3 different colourways. There is also a very cute free pattern from Riley Blake using the panel and fabric. We can kit this for you.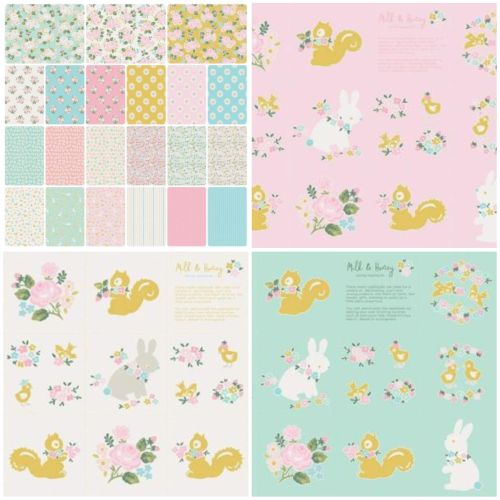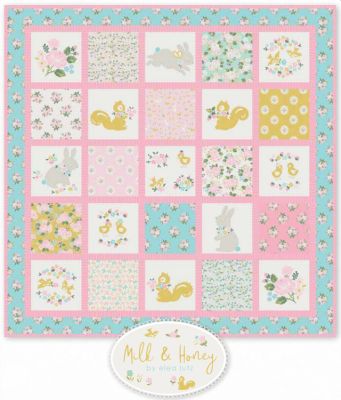 Drama galore from Michael Miller Fabrics. Ever since the first moment I laid eyes on you, I knew you were the one for me. You comforted me when I needed you the most and made me feel very special and warm. Mon Ami - feel the romance with this collection featuring butterflies, florals, bouquets and sentimental words. Stunning panel and fabrics available on the bolt.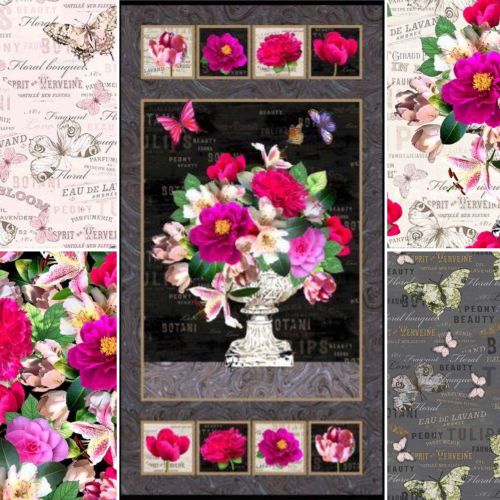 Jenelle Kent is an Australian designer based in scenic MacMasters Beach, north of Sydney. Jenelle has some very clever creations for 16" wide towelling. Toweling fabric, with clean, classic stripes and old-fashioned appeal, is a perfect match for a farmhouse home. So why keep it only in the kitchen? Sew beyond traditional tea towels and dive into this project collection chock-full of fun ways to play with 16"-wide, 100% cotton toweling. Find easy-to-follow patterns for pillows, a table runner, place mats, an apron, an oven mitt, pretty bags and pouches -- and of course, tea towels! Embellish projects with applique, embroidery, and a mix of cotton prints. A fresh spin on farmhouse style, offering simple ways to incorporate the look into any home, 17 projects. We stock the 16' wide towelling from Moda.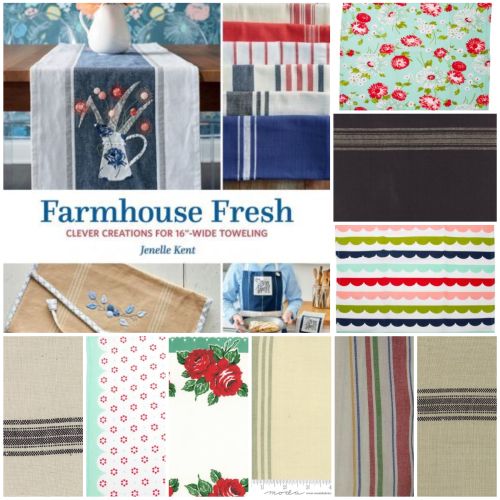 Anna Maria Horner. We have in store Anna's iconic Echinacea print. She has recoloured it in 4 different colourways - imagine single fields dappled with many sunset rich hues, with names like Algae, Amethyst, Autumn and Glow.
Betsy Chutchian. Named for Betsy's great-great-great aunt, she was the middle sister to Lizzie and Susanna. She was a stitcher, sewing garments and quilts, and while she was born in Kentucky, she moved to Texas when she was eighteen. Classic Reproduction print dating to 1850-1880, this collection is perfect for scrap quilts or on its own. We have fabric by the bolt, fat quarter and fat eighth bundles, charm packs and jelly rolls (we have sold out of layer cakes).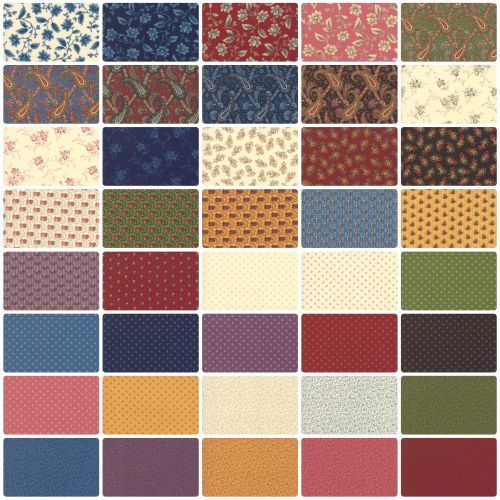 We are constantly adding to our range of extra wide quilt backs. 108" or 2.74 metres wide.
Blue Roses. Bubble Up. Celestial Stargazers. Morris and Co. Spiced Paisley. Radiance. Ombre.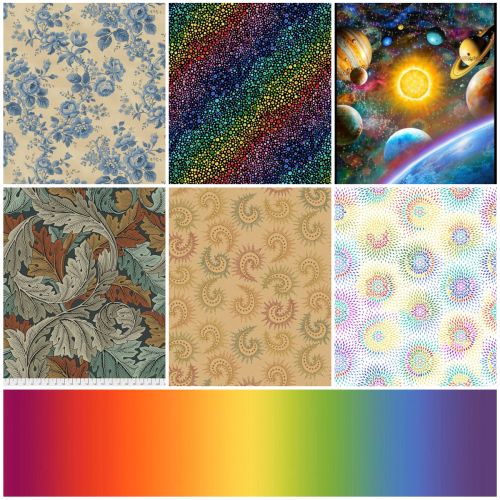 Jen Kingwell. We have put together 9 x 15cm cuts from Jens Lollies and Sweeties fabrics. This is an easy way to get yourself 72 different fabrics in one hit! Approx size of each print is 5" x 6". That is nearly 2 charm packs worth of fabrics. Perfect for any project needing some 5" squares, for lots of Jen's quilts or for those who love scrappy!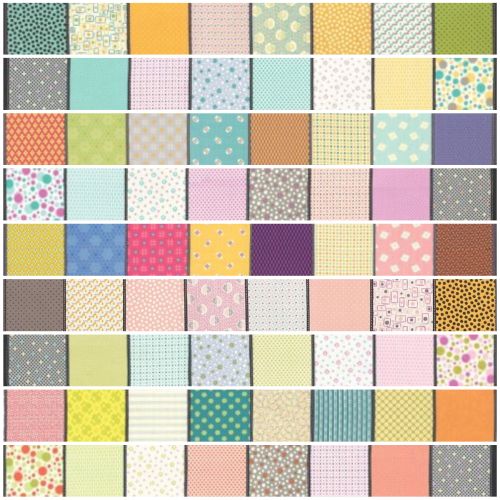 WHAT ARE WE SEWING?
Leah has been sewing up a storm at home. She has been working on a Carrie Nelson pattern. It is One Village - Together. Carrie has graciously allowed this pattern to be shared freely and Moda have made this pattern available here. While you're at home make yourself a village. If you can't go to the village, the village will come to you! Organise a swap with friends, your quilt group, whoever - make your blocks and when you get together later, what fun to share and admire all the gorgeous little village blocks.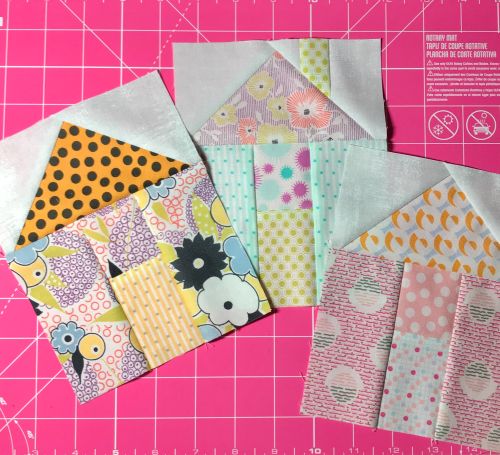 CLASSES
No Classes at the moment. Soon we hope.
CHARITY QUILTS
No meeting at the moment but I know everyone is at home sewing up a storm. Thank you.
ANZAC SLICE
For those of us in Australia and New Zealand, ANZAC Day is a day of national significance. Our nation stops as one to remember those who have gone before us. We usually gather together to remember and thank our forebears. This ANZAC day will be unlike any other that I have experienced in my life. Instead of gathering at the local memorial or RSL, many Australians will be standing in solidarity at the end of their driveways at 6am on Saturday April 25. We will be waiting to hear that lonely trumpet play The Last Post. It is traditional after the service to gather for breakfast and a cuppa and hopefully an ANZAC bickie or two. So as this is an unusual ANZAC Day why not try a little twist on the ANZAC Biscuit and cook up some ANZAC Slice.
Credit : Create Bake Make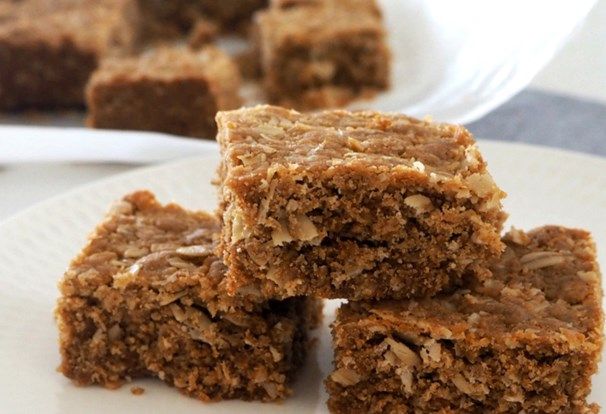 Ingredients
1 ¼ cup plain flour
1 ¼ cup rolled oats
1 cup brown sugar
1 cup desiccated coconut
150 g butter
2 tbsp golden syrup
½ tsp bicarbonate of soda
2 tbsp boiling water
Method
Preheat oven to 180°C and line a 28cm x 18cm slice tin with baking paper.
Make sure you leave paper hanging over the edges to help you remove the Anzac Slice from the tin once baked.
In a large bowl, combine the flour, oats, sugar and coconut.
Place butter and golden syrup into a small saucepan and cook over a low heat for 6 minutes, stirring regularly until the butter has melted and the ingredients have combined.
In a separate bowl, combine the bicarbonate of soda and boiling water, and stir to dissolve.
Remove the melted butter mixture from the heat and stir in the dissolved bicarbonate of soda mixture.
Pour the wet ingredients into the bowl with the dry ingredients and use a large spoon to stir together to combine.
Pour the slice into your prepared baking tin and using the back of a spoon, press the mixture evenly into the tin.
Bake for 25 minutes or until the slice is golden brown.
Carefully remove the slice from the oven and allow it to completely cool in the tray before cutting into squares.
Until next time
Karen