The New Hexagon
Millefiore Quilt Along
Class, Book and Complete set of Papers
Available Now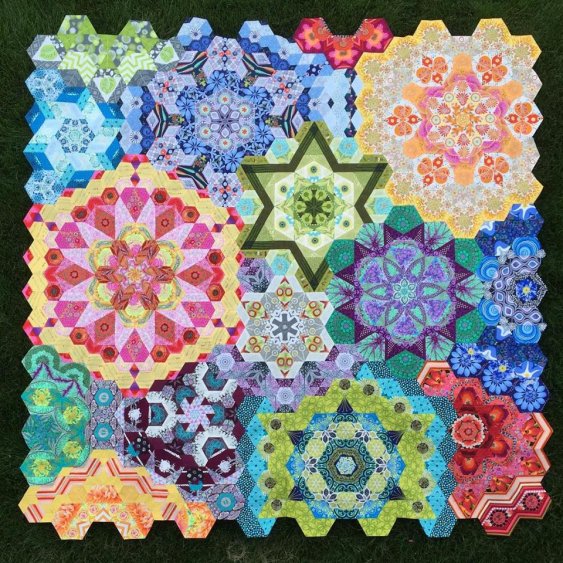 The New Hexagon - Millefiore Quilt Along
By Katja Marek
The finished quilt is approximately 78" x 78"
The New Hexagon - 52 Blocks to English Paper Piece is
available to purchase from The Quilters' Store.
It contains all the basic English Paper Piecing instructions (page 9) and fussy-cutting (page 16).
It is difficult to give exact fabric requirements since this is
dependant on whether you deiced to fussy cut or not, and
also where your place your fabrics. Without fussy cutting
you will need approximately 10m for the top. The quilt
will be finished with irregular edges shown, by
appliqueing the back onto the front (as in Sonja's Hex-a-
Stars, page 87). It consists of 15 full and partial rosettes.
Each rosette is based on blocks from The New Hexagon -
52 Blocks to Paper Piece. Some blocks are used exactly as
shown; some are altered by removing lines.
The Quilters' Store stock the full set of Papers required.
We also hold a monthly class (4th Thursday of the month)
to get you started and keep you motivated for this project.
Bookings are essential 07 3875 1700.